Our work on clothing and textiles and electricals and electronics focuses on not wasting this valuable resource.
The Sustainable Clothing Action Plan (SCAP) is our award-winning initiative to reduce the environmental impact of the UK's clothing sector. In the UK, we convene leading brands and recyclers to focus effort. Internationally, we are creating a circular approach to fashion across Europe through the European Clothing Action Plan (ECAP), an EU LIFE funded project.
Customer experience and lifecycle of the products is at the heart of our work with the electrical and electronics businesses. We champion resource-efficient business models through our leadership of EU LIFE funded REBus project.
---
Sustainable Clothing Action Plan progress
SCAP
membership grew quickly and now accounts for more than half of the UK clothing market. Signatories have made significant improvements; reducing carbon by 10.6 per cent; water by 13.5 per cent and waste across the product lifecycle by 0.8 per cent per tonne of clothing. That's enough water to fill 23,000 bath tubs per tonne of clothing.
---
Electricals industry could realise £ billions in financial benefit
Consumer appetite for take back schemes is growing. This presents the electricals industry with the opportunity to use resources more sustainably. Our new report '
Switched on to Value: Powering Business Change
' indicated benefits of £4.4 billion, preventing one million tonnes of waste and saving 14 million tonnes in CO
2
e.
---
Landfill falls out of fashion
WRAP's report,
Valuing our Clothes: The Cost of UK Fashion
found that the way people care for their clothes is changing. The current estimate of clothing going into household bins has dropped by 50,000 tonnes from 2012-2015. These changes in behaviour have helped cut approximately 700,000 tonnes CO
2
e from UK emissions, each year. The report has been downloaded nearly 3,000 times.
---
Sustainable clothing guide
Our
Sustainable Clothing Guide
(for use by designers and product technologists), sets out how to design, produce, and sell sustainable clothing that lasts longer. The guide has been downloaded around 800 times. Partners including Marks & Spencer have fed back on how valuable it is.
---
UK attitudes and behaviours towards clothing
Our
Consumer Clothing Survey
looked at people's attitudes and behaviours around buying, using, and disposing of clothing. It shows that there is a significant gap between people's intentions and their actions when out shopping. 74 per cent of people say they want clothes that are made to last, but only 63 per cent actually look for this when shopping. We want to help close this gap by working with our partners, and through our citizen campaign,
Love Your Clothes
.
---
REBus pilots provide snapshot of what could be achieved on a large scale
---
Increasing recovery of critical raw materials
The EU LIFE funded
Critical Raw Material Closed Loop Recovery project
, led by WRAP, is exploring novel ways to collect and recover critical raw materials (CRMs) from household waste electrical and electronic equipment (WEEE). We have completed the initial collection of devices such as smart phones, laptops and personnel computers. These are now being tested to recover critical raw materials.
---
New research shows environmental impact of clothing industry in Europe
---
Highlighting the environmental impacts of workwear
---
Love Your Clothes video content
Our
Love Your Clothes
campaign produced 13 new films and step-by-step stain removal, creative crafts, capsule wardrobe and pre-loved clothing guides in both English and Welsh targeting priority audiences segments. The videos were viewed over 20,000 times.
---
Clothing collections for Cancer Research UK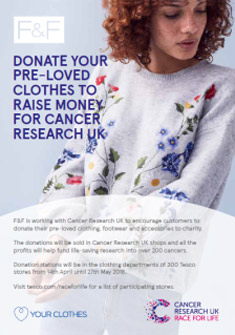 Love Your Clothes
joined forces with Tesco to drive clothing collections for Cancer Research UK. The public were encouraged to donate unwanted clothing across 200 Tesco stores. The six-week campaign saw over 5,500 bags collected, raising over £100,000 for Cancer Research UK.
---
Decluttering and donating
In September 2017,
Love Your Clothes
sponsored a pledge on the Do Nation website encouraging people to declutter their wardrobe and donate unwanted clothes to charity, or to recycle them. By pledging clothes, people could see how much CO² could be saved. During our sponsorship, 590 pledges received resulted in a potential saving of 12,174kg of CO
2
e. As part of its decluttering campaign, Love Your Clothes partnered with clothing collector
ClothesAid
to distribute approx. 1 million leaflets to households encouraging people to clear out their wardrobes. The campaign increased collections by more than 24,400kg.
---
WRAP's sustainable electricals series launches with Guardian Sustainable Business
We partnered with Guardian Sustainable Business to produce a series of electrical and electronic sustainability articles. Six articles looked at subjects such as how smart technology could propel us to a more resource-efficient world. The complete series achieved over 29,000 views.
---
We will continue to work with our SCAP partners to encourage more changes. These will include the sourcing of sustainable cotton. We also want to encourage partners to adopt lower impact dyeing processes and help them to find additional savings from newer fibres and process improvements. Through ECAP, we will test fibre to fibre recycling which could have a large impact on clothing sustainability.