Extra cash for Welsh recycling
The Welsh Government added £7.5 million to the fund which provides grants for local authorities to boost their recycling. Environment minister Hannah Blythyn
announced the extra cash
under the Collaborative Change Programme (CCP), delivered by WRAP, on a visit to Merthyr Tydfil's recycling depot at Pentrebach.
---
Delivering economics and environmental benefits
WRAP Cymru's
Sustainable Resource Management programme
provided specialist support to the resource management sector. It provides manufacturers with technical expertise to increase the use of recycled materials in their products. For the public sector, this is procurement support to drive demand for sustainable products. Their work has resulted in over 150,000 tonnes of waste diverted from landfill, more than 173,000 tonnes of CO2e avoided and the creation of 39 new jobs in Wales.
---
Minister encourages sign up to Courtauld during festive visit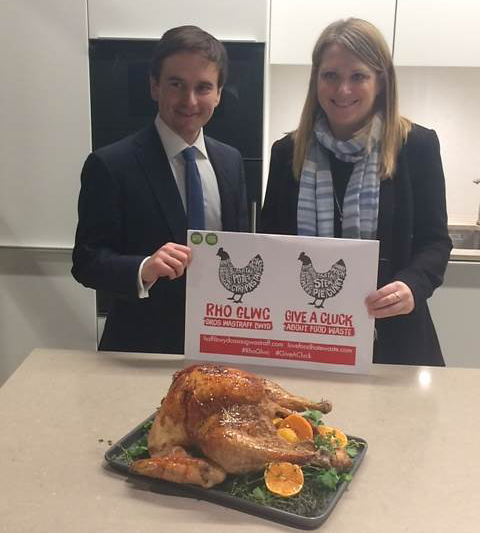 Hannah Blythyn, the Welsh Government's Minister for Environment, visited Courtauld 2025 signatory Iceland Food Limited at their head office. The Minister heard their plans to tackle waste in the supply chain. During the visit, the Minister praised WRAP's work including LFHW's Give a Cluck campaign as well as
Courtauld 2025
, saying, "I would encourage other companies across Wales to sign up to the Courtauld agreement."
---
IKEA textiles take-back service
Piloted in their Cardiff store, the
IKEA textile take-back service
allowed the public to bring in any unwanted textiles to be re-used, repaired or recycled by the YMCA. WRAP Cymru worked with IKEA by providing research, communications, messaging, facilitating partnerships and developing the metrics to measure the service.
---
Recycle for Wales
led on the delivery of the third Run Refuel Recycle campaign, delivered in partnership with Brecon Carreg and Run4Wales for the 2017 Cardiff Half Marathon. We engaged with the runners and spectators to encourage them to think differently about how they dispose of their waste - both at the event and at home. A post-race survey revealed that almost seventy per cent said it made them re-think how they dispose of plastic bottles. Sixty four per cent said it made them re-think how they dispose of food waste.
---
Inspiring staff and students to love their clothes
Love Your Clothes
ran employee engagement campaigns with several organisations based in Wales. These included clothing collection drives, alteration and repair sessions. Collectively, 2,249kg of clothes were donated by Legal & General, Companies House and three Cardiff Councils. The donated clothes were given to RSPCA Llys Nini, Tŷ Hafan and YMCA Cardiff respectively. We also worked with the University of South Wales by organising a clothing collection where students refashioned some of the donated clothes to sell at a pop-up shop. They raised almost £100 for Tŷ Hafan, who also received 250kg donated clothes.
---
Our priorities in Wales are to increase the household recycling rate working towards a target of 70 per cent by 2025, and to further reduce food waste. Our immediate challenge is to divert half of the 0.2Mt of recyclable material in residual waste bins. Bespoke collaboration with Welsh local authorities will support this work. We also working closely with Welsh small and medium-sized enterprises to reduce supply chain and hospitality food waste.